We recently celebrated Dodford Manor gaining the accolade of one of the UK's most popular wedding venues in 2022!
HITCHED, the UK's largest wedding planning website, reviewed all of the interest and enquiries in UK wedding venues over the past year and recently announced their eagerly awaited Top Ten Most Popular UK Wedding Venues in 2022.
The whole wedding team were over the moon to learn Dodford Manor reached a place in the Top Ten Wedding Venues and for a second year running.  According to HITCHED, Dodford Manor is increasingly sought after and secured a place as UK's third most popular wedding venue in 2022!
"We are absolutely chuffed to bits and a lot of celebratory jumping about is ongoing about the barns!  Everyone at Dodford Manor is both taken aback and delighted by the news, as this is an amazing achievement.  It is particularly special as 2022 is our ten-year anniversary; not that we can believe this for a second!" said Simon Steel & Annabelle Steel (owners)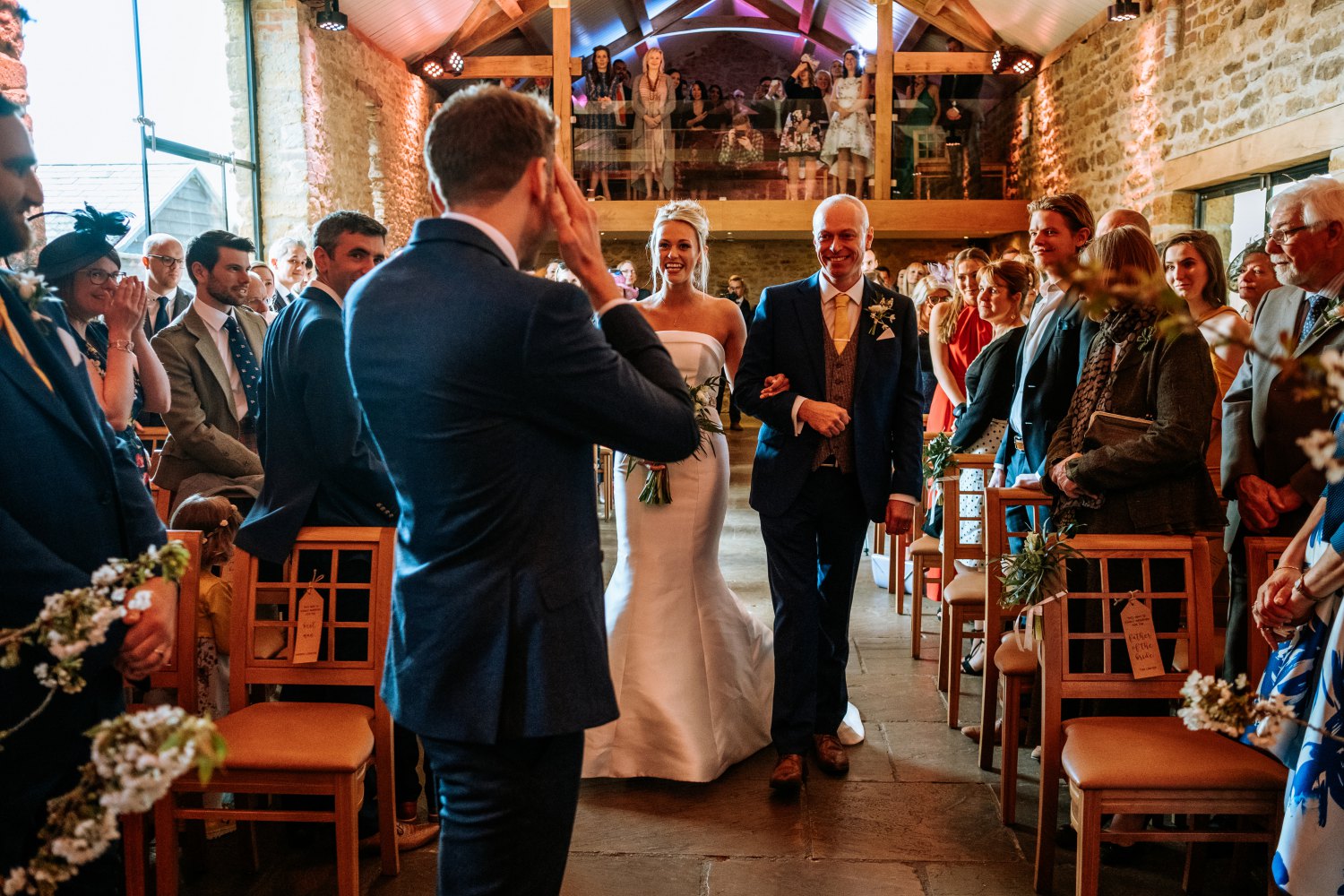 Dodford Manor is an understated if charming collection of historic barns and modern glazed oak barns, that make up a lovely rustic barn wedding venue, nestled in the countryside.  The barns and yards enjoy long-ranging views across rolling fields and grazing sheep drifting about the place, making a relaxed setting for wedding celebrations (with sheep only joining the wedding reception on rare occasions of escape)!
"We have been proud to host a truly eclectic mix of weddings and our couples frequently comment on how Dodford Manor offers a blank canvas for them to put their own individual stamp on.  And this extends to our ace caterers, as couples can also design their own wedding day feast and there's no corkage throughout the wedding day time celebrations either!"
"Folk are also surprised by the barns' transformation to a stunning evening celebration setting too and Dodford Manor makes for a compelling wedding venue offering.  But the real gem is the Dodford Manor Wedding Team, who are awesome; always fun and down to earth, but also highly supportive and engaged from wedding day planning support to discreetly ensuring couples and their guests really do enjoy their best day ever!"
Dodford Manor has been operating as a wedding venue for 10 years this year, and we have continued to go from strength to strength as more and more people discover this wonderful venue.  Being the third most popular UK venue is a wonderful 10-year anniversary present for us all and we recently celebrated this awesome accolade at our great big Christmas Party [coincidentally in some rather warm toasty atmospheric barns!].
For those unaware, Dodford Manor is a Grade 2 Listed, 17th & 18th century lovingly restored farm barn complex including a contemporary glazed walled oak framed barn, all set amidst rolling Northamptonshire farmland with beautiful views and connection to the countryside.  This is perfect for couples seeking the perfect backdrop to their wedding day. We are licensed for civil ceremonies and partnerships and can accommodate micro weddings – 30 guests or fewer – or larger celebrations for up to 170-day guests and up to 200 people during the evening.
Steeped in history, Dodford Manor's past owners have included William the Conqueror's half-brother Robert (the Count of Mortain) and a smattering of nobles and knights since. The countryside venue boasts a 1680s threshing barn and a 1790s dairy barn & cart shed and a contemporary oak framed barn however much care has bee taken during the restoration to retain the historic features too.
Dodford Manor, near Northampton, has been included on the roll of honour compiled by Hitched, one of the UK's leading wedding planning services that operate across the globe. Hitched conducted its annual poll of which venue received the greatest amount of interest and enquiries over the past 12 months and recently announced their UK Top Ten Most Popular UK venues.  Dodford Manor was also featured in last year's Top 10 Most Popular venues compiled by Hitched, which works with more than 500,000 suppliers around the world and is a global leader in its industry.
For more than two decades, Hitched has provided couples with help, advice and inspiration covering every aspect of wedding planning.
Dodford Manor remains a multiaward winning and accolade collecting wedding venue & wedding team.  Awards and Accolades include UK's Best Countryside Wedding Venue, Best Regional Wedding Events Team (x 3 consecutive years), Bridebook best County Venue, Top Ten most Popular Wedding (2 consecutive years), Best All-Inclusive Wedding Venue and more!  However we never rest on our laurels and are constantly looking to evolve and improve our guest experience and ever mindful of what a privilege it is to be involved in your wedding day.
If you would like more information on us in the form of an e-brochure, click the link here or if simply cannot wait to arrange a viewing and have a natter about your wedding ideas over a brew, click the link here!
UK's 4th Most Popular Wedding Venue 2021 – HITCHED
UK's 3rd Most Popular Wedding Venue 2022 – HITCHED